This 10-steps checklist is a compressive guide for everyone who considers a first step into the Internet business. Following this tutorial, the future Web site owner should be able to establish an authoritative place on the Internet, which attracts a fair amount of highly targeted and 'converting' search engine traffic.
Index
Step 1: Write down your master plan, budget expenses and potential revenue at least for a period of two years. [Shrink]
Get a Reliable and Fast Internet Connection
Step 2: To maintain a Web site, you need a broadband Internet connection, plus a slower backup line. [Shrink]
Step 3: Carefully select a domain name registrar and register a .com domain name matching your theme or business name. [Shrink]
Choose a Professional Web Hosting Service
Step 4: Don't look at the monthly fees. Look at speed, reliability, and support. You'll get what you pay for. [Shrink]
Install a Search Engine Friendly Content Management System (CMS)
Step 5: You must focus on marketing and publishing fresh content daily, thus you need a CMS to deal with the technical aspects of Web publishing. [Shrink]
Step 6: Preannounce your new Web site to the search engines to achieve indexing at launch time. [Shrink]
Collect a Whole Bunch of Unique On-topic Content
Step 7: Content is king. Not any content: unique content. Stay away from article pools. Write it yourself or hire professional copy writers. [Shrink]
Apply Search Engine Optimized Copywriting
Step 8: Learn how to write a great copy for your users while applying silent keyword optimizing. [Shrink]
Carefully Select Affiliate Programs
Step 9: Choose Internet affiliate programs by theme, pay outs, good standing, honesty, and last but not least by the predefined ads. [Shrink]
Gain Top Search Engine Rankings
Step 10: In order to achieve good search engine placements, you must learn the basics of SE optimizing, and you'll need professional help on SEO. [Shrink]
Write Down Your Business Plan
[Shrink]
Landed on this page, you fulfil the basic requirements applied to a Web site owner. You are competent at the overall theme you've chosen, and you know that you have the skills to get the word out on it. Being a newbie on Internet publishing or not, you understand that you cannot wear all the hats necessary for Web site development and maintenance yourself, while focusing on your business success.

This article leads you thru the basic steps to outline a sucessful Web site. It describes all major investments and skills you need to bring in or buy. Due to the infinite amount of Internet based business models, this road map to your business plan is incomplete with regard to your particular business idea. However, you'll get the big picture.

Do your research. Read this checklist and follow the links, search for each and every 'costly keyword' mentioned here on the major search engines. Pick a handful of potential suppliers for every product and service necessary to run a successful Web site, ask for demos or customer references, and budget the highest price in your business plan.

Once your business plan is ready, search for a professional to review it, and perform a sanity check yourself. Rethink your plans beforehand, because when you start your project, you have to stick with your decisions. Ensure that you can afford to fail, even after a year or later. You're going to play in a high risk area.

Get a Reliable and Fast Internet Connection
[Shrink]
Actually, that's a no-brainer. You can't maintain a web site via a 56kbps dial-up line having serious hiccups when you need to upload fresh content or fix a bug immediately. Your Internet connection to your web server is as critical as the bandwidth available for your visitors, 24/7.

You need a fast and reliable Internet connection, like cable or DSL, and you need a backup too, for example an ISDN dial-up line. That means, you will sign-up with two internet service providers (ISPs) and you need two independent physical lines to your ISPs. Additionally, if you travel a lot, ensure that your laptop can connect to the internet in different ways. It's not a bad idea to sign up for an AOL account then, which gives to access to the Internet regardless when and where you need an Internet connection.

That sounds paranoid, but it isn't overcautious. If your business relies on a Web site running 24/7, the reliability of your web server partly depends on a reliable access for maintenance purposes.

Also, most of your visitors still surf on slow dial-ups. That means, you must be able to test your site's speed frequently with a slow Internet connection, that is your backup line. If a page -including all images- does not load within 10 seconds, you lose visitors to a great degree. You can't maintain a Web site via dial-up, on the other hand you will not discover slow loading pages while surfing via DSL or cable.

Register Your Own Domain
[Shrink]
You can use 'free' hosting services and subdomains to test the waters or to improve your Web design skills, but you can't operate a successful Web site relying on a 3rd party domain. Registering your own domain should be an easy task, but there are pitfalls.

First, carefully select the domain name registrar. Go for an established and ICANN accredited registrar. However, search the major engines for variations of 'trouble' together with the registrar's name, because even some well known domain name registrars do have their disadvantages. The registrar must protect your address data from fraudulent WHOIS requests and your domain name from hijacking. If you need more than the 'com' TLD, stick with a US based registrar and register your national variants with the applicable national domain name registration service.

No ney never let your web hosting service register your domains! You want to be the sole owner of your domains, won't you?

If you're keen on type-in traffic, you must register a '.com' domain. To protect your business (and possibly trademark/service mark), you should register all available TLDs (.org, .net, .us, .info ...). Register all your domains for a period of at least two years, registering domains for 5 or even 10 years brings in several advantages. Do not connect subaltern domains to your main web site or deliver identical content on many domains. Upload one root index page stating 'click here for ...' instead, and redirect all other request to this page. Prevent search engine crawlers from indexing those subaltern domains.

Choose your domain name carefully. Both hyphened keyword rich domain names and easy to remember brands have their advantages. Do your research on domain names elaborately. Don't be shy on buying registered domains, if your business can prospect. Before you register or buy a domain, go to the WayBackMachine and check out its history.

Choose a Professional Web Hosting Service
[Shrink]
Choosing the right Web hosting service is very important, because once your Web site is running, it's nearly impossible to change hosts. Well, you can supersede anything in general, but changing the host goes along with long outages and all kind of troubles with search engines, bookmarking visitors, and financial losses.

What you need is a professional Web hosting service, which enables your business to grow smoothly. You can start with a virtual server account, that is one server machine running web servers for a couple of domains. Then when your traffic grows, you can upgrade to a dedicated server, that is one server machine hosting your domain(s) only. A professional hosting company will handle such upgrades without one second of downtime.

You can work with a Web hosting service located anywhere on the globe. Most probably you'll make a contract with an american hosting company, because you won't get a better service at other places. However, if you plan to work on a local market, you must find a host in that country for search engine ranking purposes. For example, a Web site hosted in America is mostly invisible on search engine result pages, when users search for a UK based service within the UK.

Here are a few criteria, mostly of a technical nature, which are crucial when it comes to web hosting. The server's operating system must be UNIX (BSD, Linux, Solaris, AIX or another *ix). Reliable and safe Web hosting is just plain impossible on other operating systems. You need your own IP address, stay away from any type of hosting where foreign domains are reachable thru an IP address shared with your domain(s). All standard server-sided software, for example Apache, Perl, PHP, MySQL, SSI ..., must be pre-installed and the hosting service must have a working concept to monitor and maintain all the software centralized. It should be no issue to get scripts and other software installed by the host's support staff. The Web hosting company's data centers must be multi-hosted, that means they must have connections to several Internet backbones. In times of frequently recurring power outages, multi-redundant power systems and standby generators are a must too.

The most important criteria besides a good standing is the quality and availability of technical support 24/7/365. A state of the art Web hosting firm will guarantee an outstanding technical support, providing 100% competent staff answering each phone call in three rings or less around the clock. Sign-up for a virtual account and test it at 11pm and 3am. If it doesn't work, move on before your Web site is launched.

Install a Search Engine Friendly Content Management System (CMS)
[Shrink]
Successful Web sites are rather large, and they are dynamic. Even if you're an experienced Web designer, it's a PITA to maintain a large site with standard Web design tools. You need a database driven content management system (CMS), which takes off all the technical hassles from publishing fresh content daily. Follow the links for detailed information on content management systems, here we'll discuss just a few basics.

When you buy traffic, clean and search engine friendly coded pages do not matter. Even lousy cluttered HTML is suitable, as long as Web browsers can render it. On the other hand, if you're keen on free and highly targeted search engine traffic, you must ensure that your CMS produces excellent HTML code which is (can be) optimized for top notch search engine rankings. The CMS must not make use of fancy scripting which gets executed client-sided, because search engine crawlers will not execute JavaScript and refuse to install the latest browser plug-ins.

Unfortunately, a search engine friendly CMS still is an oxymoron. Most content management systems were developed by geeks for publishers, no marketing staff involved. CMSs are all about fast and easy publishing on the Web. Indeed they are user friendly, but their user is the publisher, not the Web site visitor or the search engine crawler, which both show a nearly identical 'surfing bahavior'.

Because your investment in a CMS is one of the bigger expenses, you should hire a SEO consultant to evaluate the applicable software products fitting your budget. Most probably the SEO consultant can do the evaluation with regard to Web design requirements, performance and other technical aspects too. To get an idea of the sheer technical complexity of a CMS evaluation, read this article on search engine friendly Web site architectures. Your CMS must allow the SEO to tweak each and every line of code, and text content as well.

Soft-launch Your New Web Site
[Shrink]
In order to gain search engine visibility when you're ready to launch your Web site, you must 'submit' it to the major search engines as soon as possible. Their crawlers are pretty busy spidering established Web sites, usually they don't bother with orphans1. A fair search engine placement depends among other things on frequent deep crawls.

Immediately delete the default page placed on your domain's root directory, since 'under construction' is a useless term to get indexed for. Write an essay summarizing the overall theme of your Web site. You need at least one page telling visitors and search engine crawlers what your site is all about. It helps to release the major category pages too, this provides a good indication about the structure, and allows guessing the future size of your new Web site. Announce the launch, put in a 'date' META tag on every page (and make sure you can launch punctual).

Ask a friend for a not that prominent link to your domain from a page known by the search engines. Then check your spelling, grammar and all links, and submit the root index page to all search engines. If you've started with a fair amount of unique content, you can submit your site to DMOZ2 too. Don't expect any traffic at this time. All you want for now is letting the search engines know that there is a new URL.

As soon as you've uploaded a few subsidiary pages, buy a fair amount of traffic and track all visits. From reading your server statictics you will learn a lot about your navigation scheme. Tweak it as necessary, then buy the next chunk of traffic and repeat the experiment until a fair amount of users is landing on pages located in the deepest hierarchy level. If you can't bring in excellent SEO skills, hire a search engine optimizer to get you started with a search engine friendly Web site. If you're challenged on Web design, hire a Web designer to make your site nice looking and attractive, but not too heavy (each page must load within 10-15 seconds on a dial-up). Using a CMS, the Web design is done once by customizing templates, you don't need the help of a Web designer with each new page.

---
| | |
| --- | --- |
| 1 | An orphan in the context of Web search is a Web page lacking inbound links. Search engine crawlers follow links to find new content, thus they won't recognize an unlinked page. If a crawler knows the URL of an orphan, for example from a submission, it may fetch it every once in a while, but it won't index it because a page's importance is determinded by inbound links. No inbound links, no inclusion in the search engine's index. A brand new Web site starts its career as orphan. |
| 2 | A listing by the Open Directory Project (ODP), aka DMOZ, is very important for various reasons. Unfortunately, depending on the category, the time-to-list varies from a few weeks to several months or even years. Thus, as soon as you have thrown together a great site which is valuable for surfers, providing unique content without similarities to other sites listed by DMOZ, submit it. If it's not listed when you launch your Web site, resubmit it. |
Collect a Whole Bunch of Unique On-topic Content
[Shrink]
Succesful Web sites provide their visitors with a whole bunch of unique content. Search engines, designed to find valuable content for their users, send most of their free traffic to content rich Web sites.

You need awesome content to catch users, and you must update your Web site frequently to build recurring traffic. That is users bookmarking your site, syndicating your RSS feeds, subscribing to your newsletters, emailing your URLs to their friends and linking to you on their home pages.

Search engines will recognize your update frequency, crawl your fresh content and updated index pages daily, and will send you even more free traffic. Editors of Web directories more likely list active Web sites. Webmasters of related sites do link to well maintained sites, often without request. Users of social bookmarking services and other Web communities like message boards tend to ignore static Web sites, but they do recommend great places.

Publishing outstanding fresh content daily is the key to success on the Internet.

You need a backlog of articles to feed your site when you're sick or traveling. Since most sites don't update on weekends, it's a good idea to do so. You won't believe how many surfers hunt for fresh content on weekends.

Although humans can surf the Internet following links in flash presentations, linked images or hot spots on graphics, search engine spiders are blind and do not enjoy your multimedia content. If you offer a video clip, provide a descriptive summary in plain text. If you show pictures, put a short but keyword rich ALT attribute in the IMG tag, and add at least one paragraph of descriptive surrounding text. On thumbnail galleries use ALT tags too, and put a short description under each thumbnail. Make every page spider friendly, that means avoid Web pages with less than a few hundred words of readable text.

Publishing unique content leads surfers to your site. If you pull your text content from pools, chances are the pool itself or any other Web site making use of the public domain content will outrank you. If you submit articles to pools yourself, keep them short and link to your site. Never post text snippets from your Web site.

Apply Search Engine Optimized Copywriting
[Shrink]
Search engine optimized copywriting is a technique of placing keywords and keyword phrases in visible text on Web pages to improve search engine rankings, without annoying the human reader. Search engines rank Web pages partly based on keywords found on the page.

Experienced Web copywriters can produce search engine optimized text which reads totally natural. SEO Consultants can optimize every given text for ranking purposes. Subjects to SEO copywriting are body text, titles, headlines, image descriptions and internal links. In non-competitive areas, SEO copywriting is half the effort to gain top rankings. However, applying SEO copywriting is not suitable for sales pitches and alike, where your wording must catch the reader and seduce her/him to buy.

Hire a SEO consultant to introduce you to SEO copywriting. Probably it makes even sense to pay for a few pages optimized for your major keywords. Once you've got the idea, it boils down to 'use your keywords in TITLE, META and Hn tags, emphasized in the first paragraph and naturally spread over the whole body text'. Coaching is important to get SEO copywriting 'in your blood', no magics involved.

Don't buy so called 'free tips and tricks' on optimal keyword density, number of words per page, paragraph length ... 'advice' like that is either outdated or falls under Internet fairy tales. Both large and tiny pages do have their advantages, especially if you use tiny pages optimized for particular keywords to support large pages which are relevant to many search queries.

Carefully Select Affiliate Programs
[Shrink]
Depending on the type of your Web site, you'll place more or less advertisements (Ads) on your pages. Making proper use of Internet affiliate programs can make up the difference between nice earnings and failure. Even if you're selling self produced products, it makes sense to advertise related products and services. Sometimes it's not a bad idea to upsell even your direct competition.

Your content management system (CMS) should come with an advertisement management tool. Placing the right ads nearby the related content is essential. Note, that on-topic ad management is a per page task. Ads matching the overall theme of a Web site will not work on every page. The ad management tool must rotate ads by different affiliate programs, using a self-learning algorithm placing the best performing ads on each page. Without this kind of automation, you should use contextual advertisements, throwing in some other affiliate links manually.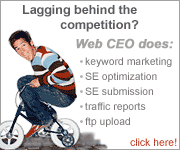 The most effective ad placement is within the content. Ads should not break up the text. Don't make your copy hard to read, make sure the user can follow your text easily. On the other hand you want to lead the user's attention to the ad. This works best, if the ad's message is related to the paragraph of text embedding the advertisement. Of course, with regard to relevancy this is a bad example, but the goal of this article is not encouraging you to click on the ads, although the propaganda on the left is closely related to the overall theme.
Don't overdo it. Banner farms just do not sell, because visitors discovering a page is plastered with affiliate links, hit their back button faster than your popups and popunders can appear. The key to success is decent content related advertising. Affiliate links must fit your page layout, in the best case a visitor doesn't spot an affiliate link before s/he lands on the sponsor's page. Don't put ads on pages carrying sparse text content, or even no text content at all. Affiliate links on 'thin pages' can cause site wide search engine penalties.

Carefully choose affiliate programs by theme, pay outs, good standing, honesty, and last but not least by the predefined ads. Don't put up banners that every other site out there uses. Customize the offered ads to make them somewhat unique to your site. Create your own text ads stressing particular USPs from the sponsor's sales pitch. Read your daily dose of email spam to find new affiliate programs which aren't overused on the Internet. Be creative.

Whatever you do to increase your affiliate program revenue, stay fair and don't trick your visitors into a sponsor's popup hell. Remember that recurring visitors click on your ads too. Fooling your visitors by sneaky advertising results in astonishing trends in your bank account's balance.

Gain Top Search Engine Rankings
[Shrink]
Search engines are the most valuable source of traffic on the Internet. Note, that I didn't say 'free SE traffic'. Highly targeted search engine traffic is not for free, although you don't pay the engines for traffic they send you from organic searches. You must hire a professional SEO Consultant in order to gain a profitable search engine placement.

Search engine optimizing (SEO) is a tough task nowadays, since zillions of Web sites hunt for top rankings on a finite number of money making keywords. You can limit your expenses on SE optimizing by applying basic SEO yourself. That is basically strict on-topic page development, disciplined copywriting, proper keyword phrase placement, clean HTML coding, acquisition of related inbound links and other promotional work. You've found some tips on SEO in this article, and there are other sources of information out there, but the best working SEO techniques aren't posted on webmaster message boards nor other places.

If you haven't done yet, go search for a professional SEO consultant. Stay away from SEO firms promising guaranteed top 10 rankings on all major search engines. They cannot deliver without cheating. Run if a SEO company sells hosting and links in combination with (or even prerequisites to) their SEO services. Chances are they flood the engines with cloaked doorway pages and other sneaky stuff and your domain gets banned. There is only one valid SEO promise: 'I'll work hard to improve your search engine placement, but I can't guarantee you anything because we rely on things beyond our control'.

With regard to search engine optimizing the most important skill is patience. It will take a few months before you see the results from link building campaigns, directory submissions and themed link trades. Therefore it is essential that you involve a SEO consultant from day one on. A professional SEO will answer every question and hand out information even before you ask. Working hand in hand with a SEO consultant you'll learn the basics of SEO as far as you can apply them yourself, and you'll avoid the common newbie errors, which are pretty costly.

Most SEOs offer PPC campaign management and advice on other sources of paid traffic too. Don't forget to budget those expenses, because at launch time and a few months afterwards you can't run your site from organic search engine traffic alone.



Author: Sebastian
Last Update: Thursday, July 14, 2005 Web Feed