Ten Steps to Your Successful Web Site &middot Index &middot Part 1 &middot 2 &middot 3 &middot 4 &middot 5 &middot 6 &middot 7 &middot 8 &middot 9 &middot 10 &middot Expand · Web Feed
Depending on the type of your Web site, you'll place more or less advertisements (Ads) on your pages. Making proper use of Internet affiliate programs can make up the difference between nice earnings and failure. Even if you're selling self produced products, it makes sense to advertise related products and services. Sometimes it's not a bad idea to upsell even your direct competition.

Your content management system (CMS) should come with an advertisement management tool. Placing the right ads nearby the related content is essential. Note, that on-topic ad management is a per page task. Ads matching the overall theme of a Web site will not work on every page. The ad management tool must rotate ads by different affiliate programs, using a self-learning algorithm placing the best performing ads on each page. Without this kind of automation, you should use contextual advertisements, throwing in some other affiliate links manually.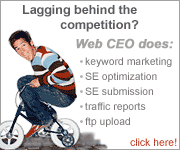 The most effective ad placement is within the content. Ads should not break up the text. Don't make your copy hard to read, make sure the user can follow your text easily. On the other hand you want to lead the user's attention to the ad. This works best, if the ad's message is related to the paragraph of text embedding the advertisement. Of course, with regard to relevancy this is a bad example, but the goal of this article is not encouraging you to click on the ads, although the propaganda on the left is closely related to the overall theme.
Don't overdo it. Banner farms just do not sell, because visitors discovering a page is plastered with affiliate links, hit their back button faster than your popups and popunders can appear. The key to success is decent content related advertising. Affiliate links must fit your page layout, in the best case a visitor doesn't spot an affiliate link before s/he lands on the sponsor's page. Don't put ads on pages carrying sparse text content, or even no text content at all. Affiliate links on 'thin pages' can cause site wide search engine penalties.

Carefully choose affiliate programs by theme, pay outs, good standing, honesty, and last but not least by the predefined ads. Don't put up banners that every other site out there uses. Customize the offered ads to make them somewhat unique to your site. Create your own text ads stressing particular USPs from the sponsor's sales pitch. Read your daily dose of email spam to find new affiliate programs which aren't overused on the Internet. Be creative.

Whatever you do to increase your affiliate program revenue, stay fair and don't trick your visitors into a sponsor's popup hell. Remember that recurring visitors click on your ads too. Fooling your visitors by sneaky advertising results in astonishing trends in your bank account's balance.

Gain Top Search Engine Rankings
Apply Search Engine Optimized Copywriting
Ten Steps to Your Successful Web Site &middot Index &middot Part 1 &middot 2 &middot 3 &middot 4 &middot 5 &middot 6 &middot 7 &middot 8 &middot 9 &middot 10 &middot Expand · Web Feed


Author: Sebastian
Last Update: Thursday, July 14, 2005 Web Feed